Corrugated Sheets & Interior Packaging
BC Box manufactures Corrugated cardboard sheets, liners, cardboard pallet corners, cardboard tubes, pads, build-ups, cardboard partitions dividers, and other inner packing pieces in Canada which can be structured in an infinite number of ways to separate or cushion products, strengthen the box, or prevent product movement.
Corrugated Sheets Canada
Your product may require more than just a corrugated box. Our in-house 87" corrugator gives us the ability to control our board supply. Having our own corrugator has allowed us to experiment and create our own corrugated board grades. We offer consistent quality corrugated cardboard sheets for every order we run. These board grades are designed to be lighter, stronger, and use less material than traditional corrugated board grades. Our custom WP board grades are direct replacements for certain common board grades.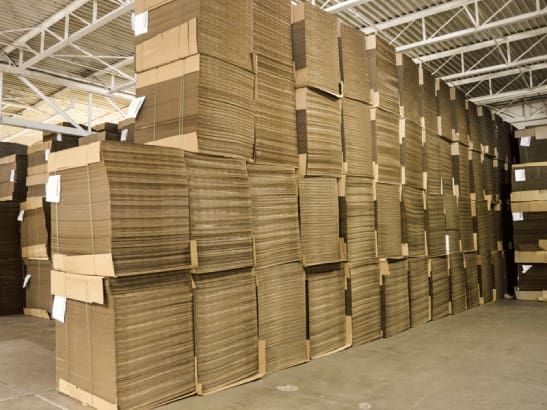 BC Box has the advantage of a consistent supply of corrugated products to our customers since we have firm supply contracts with many reputable containerboard mills. Our flat sheets sizes from 85" X150" can be supplied in plain Kraft, coated, or white top liners made from recycled or virgin paper purchased from our global supply chain.
Linerboard test results meet or exceed those with competitive products. The physical characteristics of our superior board grade and corrugator efficiency have improved the sheet basis weight, smoothness, consistent moisture profile, caliper control, porosity, and resulting printability. All our corrugated products are 100% recyclable and offer great product protection.
Your product may require more than just a corrugated box. BC Box manufactures and sources out through their network many other packaging products as follows:
Cardboard Tubes
Scored sheets are folded to form rectangles and sometimes glued or joined with tape to form a structure that is open at both ends. These cardboard tubes are used as sleeves for individual items such as glassware, adjacent packaging provides extra protection.
Corrugated Pads
Pads are used to fill the space between the inner flaps of a regular slotted container, to completely cover the bottom or top of a box, or to separate layers of product. Pads can also be used vertically to separate products and provide greater stacking strength.
Cardboard Partitions / Dividers
Used primarily as dividers between glassware and other fragile articles. Cardboard partitions can also optimize the stacking strength of the package.
Die-Cut Support Pads
Scored and folded inner packing pieces come in many shapes. Interior packing pieces are frequently used for cushioning. The suspension function holds the product away from the walls of the box to lessen the impact of drops or bumps. Completely filling the voids created by irregularly shaped products prevents product movement and damage, and in some cases can add stacking strength to the box.
Inner packing forms are usually die-cut to position and support irregular products from below or lock them into position from above. Alternatively, forms can be placed on two sides or at the ends of a product. Some interior packing forms are extensions of the box flaps.
Cardboard Corner Protectors
Cardboard Edge guards and cardboard corner protectors are available in a broad range of size configurations and options to meet a wide spectrum of needs. BC Box sells all kinds of custom-made edge guards and corner protectors available in 20 sizes and in lengths ranging from 2-1/2 inches (6.35 cm) to over 16 feet.