Our customers come from all industries, and bring orders to us in literally all sizes, shapes and quantities. Because of our investment in the latest technology and the skill of our team, we can meet even the most demanding orders and schedules when it comes to corrugated box manufacturing.
At BC Box, our facility manufacture in-house corrugated sheet in single wall and double wall. Single wall corrugate is just as it sounds…it is a single wall or 3 layers consisting of liner-medium-liner. Double wall corrugate is comprised of five layers in the form of liner-medium-liner-medium-liner.
Corrugated board can be constructed to best suit your specific needs by varying the corrugated medium, linerboard, flute size and adhesive.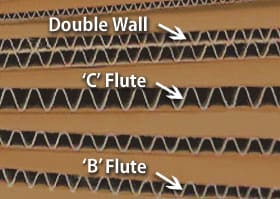 Single wall corrugate uses less material and thusly is more cost effective and takes up less shipping space. However, if stacking strength and rugged durability are your main concerns, double wall corrugated board is known for high stacking strength and high crush resistance.
Whether you need a simple brown box or a specialty box with high quality graphic printing, BC Box has the machines and systems in place to provide you with the best solution.
Measures the ability of combined board to sustain a top-to-bottom load. The strength is directly related to the compression strength of both the liners and medium. ECT is more relevant when stacking strength is the main concern. ECT is more relevant when stacking strength is the main concern.
| Mullen Test | Max Total Weight of Box & Contents | Maximum Dimensions (L W D) | ECT Equivalent |
| --- | --- | --- | --- |
| 125T | 20 Lbs. | 40" | 23 |
| 150T | 35 Lbs. | 50" | 26 |
| 175T | 50 Lbs. | 60" | 29 |
| 200T | 65 Lbs. | 75" | 32 |
| 250T | 80 Lbs. | 85" | 40 |
| 350T | 120 Lbs. | 105" | 55 |
| 200T DW | 80 Lbs. | 85" | 42 |
| 275T DW | 100 Lbs. | 95" | 48 |
| 350T DW | 120 Lbs. | 105" | 51 |
Below we have listed the most common box styles we manufacture :
Regular Slotted Carton (RSC)
All flaps are the same length from the score to the edge. Typically, the major flaps meet in the middle and the minor flaps do not. The most commonly used and produced box.
Half Slotted Carton (HSC)
This box style has no cover flaps. The cover, if required, is usually comprised of a single piece that overlaps or telescopes over the upper edge to various degrees. This style is utilized in material handling systems and in transporting fresh fruits and vegetables.

Overlap Slotted Carton (OLSC)
The OLSC is very similar to the regular slotted container except that the outer flaps overlap atleast 1 inch to all the way up to edge. The overlapping flaps provide additional cushioning and stacking strength.
Scored and slotted with a fifth panel used as the closing flap at the packing line. Typically used for longer flat products. FPF flaps provide excellent puncture resistance and stacking strength when laid flat.

OPFs are used for the shipment of items such as books, catalogs and items of clothing which are mostly shipped by parcel post and express.
This box style is made from 2 pieces – one body blank and one lid blank. It has a very sturdy lid and does not require any fastenings to close the box. This style is well suited for jewelry or gift boxes and fruit and vegetables.

These mailer styles of boxes can be rapidly produced using our die cutting machines. When utilized, custom mailer die cutting adds endless possibilities for E-commerce, retail or inner packaging.

Tray designs can be highly efficient. They are usually formed from a just a single piece of corrugated that assembles quickly. Trays are typically used to separate and contain contents inside displays and packaging.

Our food grade corrugate is made from virgin material, therefore it is never produced from recycled corrugate. Our food grade corrugate is FDA approved. You also have the versatility of utilizing a Kraft or White liner paper.