People
Teamwork is the fuel that allows common people to achieve uncommon results.
Diversified, Dedicated and Experienced Team
BC BOX Mfg. Ltd. employees have been an essential part of our growth. Their decade's worth of experience in the corrugated industry has built our reputation and goodwill with our customers, the community, and our packaging industry. Our diversified, dedicated, and experienced production team is recognized as the greatest asset of our company.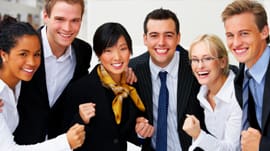 Our good reputation and great success have come as a direct result of employees satisfying our customers. We offer our employees the opportunity to apply their skills, learn, grow and challenge themselves. We place utmost confidence and reliability in our employees and can assure their excellent service and ability to create high-quality products.
Our customers are continually looking for ways to reduce costs, improve sales and profits, and deliver better-quality, more diverse products to consumers. Our first goal is to understand customers' business and their packaging needs, always ensuring them meet their expectations and do every effort to reduce their expenses at every opportunity throughout the packaging process – earning their business along the way.
Attitude, Skills & Knowledge :
Attitude, skills, and knowledge are qualities we seek to make our Company even stronger and better. We look forward to having long-lasting and rewarding relationships with our workforce.
Our simple rule at BC BOX is: We do the "hard to do with efficient way." We do what's right for our CUSTOMERS, not what's is easy and good for BC Box. We create packaging solutions that meet our customers' needs, no matter how complex, with value and quality built-in from start to finish.
The development of every staff member is very important to us, helping you grow helps us to become better at what we do.