At BC Box, we have decades of experience with Gaylord bulk bins or tote boxes and oversized pallet boxes for a wide range of industries. We are specialized to make a wide variety of heavy-duty bulk packaging that is, structurally sound and ready to protect big, heavy products. Our heavy-duty containers are stored flat, set up easily, stack efficiently, and help reduce shipping weight.
Tote boxes or Bins are the perfect option for industrial shippers, produce and seasonal retail products, as sorting systems, or as a suitable way to consolidate smaller packages and products to reduce handling time. They're cost-effective and provide the necessary strength and endurance that customers need.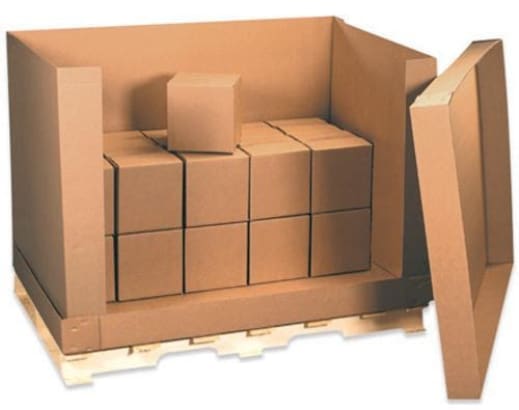 Tote or Gaylord Box
Tote boxes are broadly defined as a 'material handling container', particularly of heavy or awkward items. Our commercial totes boxes or Gaylord boxes include both one-piece boxes and those, which come with a bottom and a lid. While one-piece boxes, such as our tote boxes, can be folded up without the need for any tape, lidded file cartons offer a sturdy, economical alternative.
They are quick to assemble and give you easy access when you need to get to your documents quickly. These tote boxes are available in either single wall, double wall, or triple wall combinations and in a variety of grades. Bulk bins and Gaylord boxes get large products or large amounts of materials to your customers safely and efficiently.
Jumbo or Pallet boxes
Our Heavy Duty Jumbo Pallet Boxes Canada is manufactured to suit "standard Pallets" and are suitable for weights of up to 500 kg. and above, with double stacking for worldwide shipment. Our double and triple wall Heavy Duty Corrugated Cardboard pallet solutions are made from natural and fully recyclable ingredients.
The Pallet shipper Boxes can also be produced and printed to your specific requirements, presenting a professional image, optimizing the entire Supply Cycle. When used in conjunction with our cardboard pallets, the whole container can be either re-used or fully recycled.
100% recycled material for the most eco-friendly packaging.