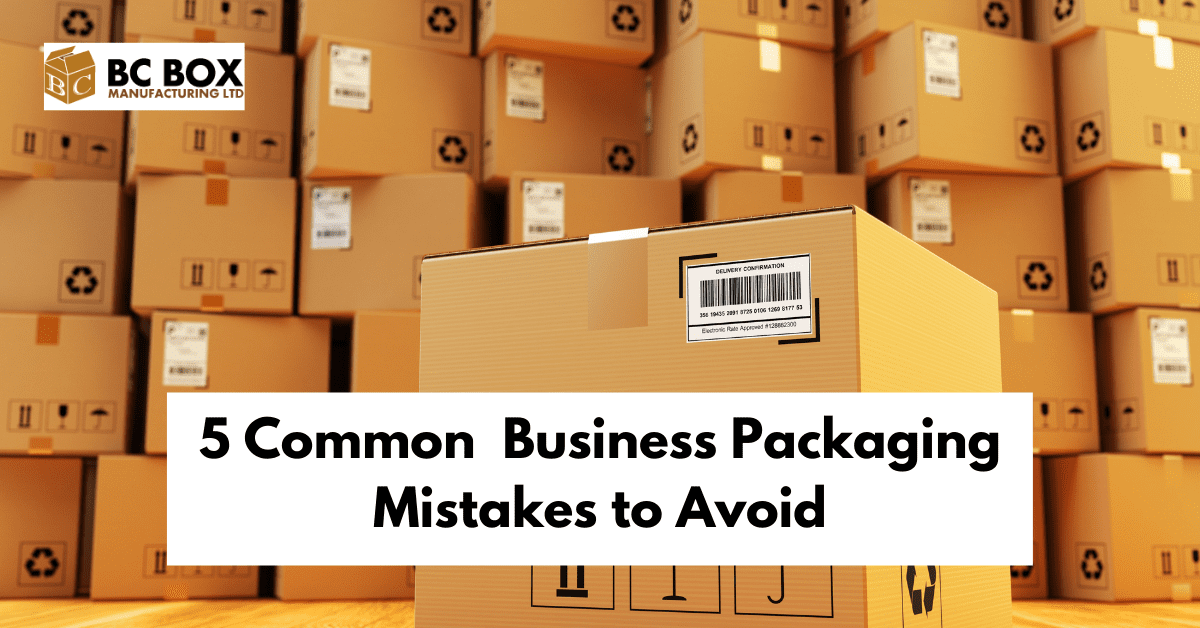 Due to the current pandemic consumer behavior has changed drastically and due to this, consumers prefer online shopping more than ever. Therefore, it is very important for the e-commerce industry to be cautious on customer issues as they can impact your branding and long-term success. One such problem is due to packaging, which is often ignored but packaging mistakes can lead to huge losses if not solved on high priority.
As per the studies, it is proved that e-commerce brand which offers premium packaging gains customer loyalty and larger market share. Hence, you must capitalize on the packaging and make sure to avoid mistakes. Make your e-commerce company remarkable by avoiding common mistakes.
5 Most Common Packaging Mistakes to Avoid
Too much or too less packaging

50 % of the online shoppers switch to another brand if they receive damaged products. One of the major reasons for product damage is either due to too much packaging material or too little packaging. For example, you're shipping any fragile item made up of glass. If you use too much cushioning to pack the product, there is a high risk of product damage due to maximum pressure. On the other side, if you do not provide the necessary amount of cushioning the glass might get damaged due to collision while in transit.

Hence, it's important to place the right amount of packaging required for the product to ensure safety.

Ignoring the quality of packaging

Ecommerce sellers prefer to choose the most cost-effective approach and purchase the packaging materials in bulk. However, it's very imperative to use high-quality packaging material. Using low-quality of the packaging material can damage the product in transit.

Moreover, the quality of supplementary packaging items like tape, foam rollers, and many others can result in inadequate protection of the products. Frequently delivering damaged products can lead to unhappy customers and a disappointing reflection of your customer care and brand.

To avoid low-quality packaging, contact a packaging solution like BCBox corrugated box manufacturer.

Forgetting the branding on packaging

Branding on the packaging is the crucial way to promote your business and spread reach. However, many e-commerce brands often skip the customization of the shipping package. Do you know? Even a simple tag or a label could extend your business branding.

Including a small thank you note, or card with the attractive coupons are some of the interesting ways to make your customer return to you for more.

Inappropriate size of the box

Another major packaging mistake is when e-commerce brands use the inappropriate size of boxes for product packaging. Using the standard boxes for packaging products does not work for all products. This might end up packing small products in large boxes or vice versa.

Just to fit the small product in large boxes usage of tapes or extra wrapping might make it difficult for your customers to open it. Hence, use appropriate boxes for packaging. BcBox is known for its customized corrugated packaging boxes.

Hard to open packages

Packaging tape is not the only way to seal e-commerce packaging. Packaging the boxes with tape or glue could be harder for customers to open and this might end up frustrating your customer.

For reusable items, it would be easy to open the packaging but if it is rendered useless after you open it, even this could irritate your customer. Re-usable products need packaging that is easy to reuse and store.
Conclusion
Avoid the above product packaging mistakes and do not underestimate the importance of customized packaging. Make sure to place the positive experience through custom packaging.
Looking for custom packaging boxes? Contact us today for a free quote.